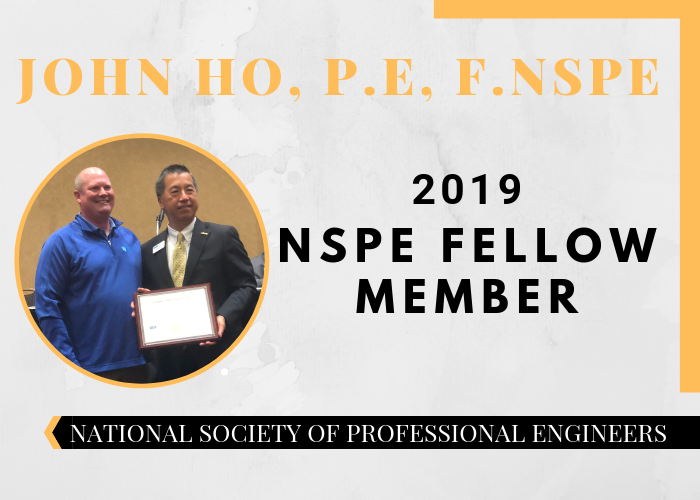 Huitt-Zollars' John Ho was one of 11 named to the 2019 Class of Fellow Members by the National Society of Professional Engineers (NSPE). The Fellow Program honors licensed members from around the country who are actively involved in the chapter, state, and national levels of NSPE and who are devoted to their profession and community. John joins a select group of NSPE members (just over one percent) who've been awarded this honor since it was established in 2000. 
Please join us in congratulating John on this outstanding achievement!
More about John Ho – 
John Ho, P.E., F.NSPE, has more than 30 years of professional civil engineering experience, with expertise in the public and private sectors. He re-joined Huitt-Zollars in 2009 and is currently a Vice President in the Dallas office, where he is responsible for business development and project management for large-scale public works projects. John also manages a group of design professionals including civil, transportation, and structural engineers, hydrologists, planners, landscape architects, and surveyors. 
In 2012, John received a Certificate of Recognition from National Society of Professional Engineers (NSPE) for his energetic support and excellence in membership recruitment and retention. He was also selected as the Texas Society of Professional Engineers (TSPE) Dallas Engineer of the Year in 2011. John served on various roles with both the Dallas Chapter and State TSPE and is a Past President of TSPE. In addition, he is a member of the NSPE, served as the Chair for Public Relations for two years, and is a member of the American Society of Civil Engineers. John is active in the Texas Public Works Association as well.
John is extremely involved in the engineering community and is a frequent speaker at engineering schools in the area, presenting on the importance of licensure, internships, and ethics. He earned a bachelor's degree in civil engineering from Southern Methodist University and was instrumental in forming the TSPE student chapter at SMU. As an active alumnus, he has participated in career fairs and spoken at several student events.